Best Pay per Click (PPC) Company in India
In 2020, there were nearby 7 billion searches on Google every day. Or a staggering approx 2.5 trillion searches per year worldwide. the fastest way to generate traffic and leads through creative marketing is Pay per Click or campaign service, While generating organic traffic through innovative marketing and SEO strategies can takes time, so you should come up with advertisements for your brand or business and promote them on different ways. These ways could be search engine based like Google Ads, social media promotions. When you promote your ads on these ways, you appear on the first page of search results or on the news feed depending on your pricing and specifications.
Keyword Research
Start the process with a through keyword research add terms & phrases your audience would use.
Budget
Consult your finance team while allocating a budget for your PPC Campaign.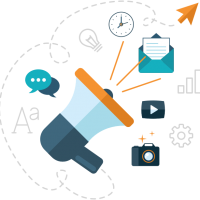 Campaign Type
Select whether you want to run textual, visual or product ads. Keep in mind the budget.
Run Campaign
Set up your ads, Pick your setting and activate them, you can pause your campaign anytime.
Track Ads
Track and analyze the performance of your ads, tweak your ads to make them perform better.
Frequently Asked
Questions?